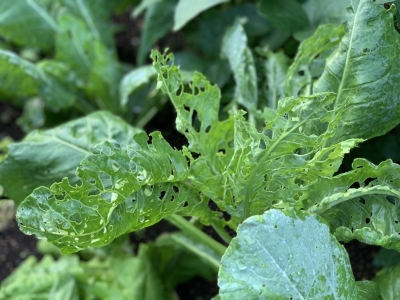 A Cabbageworm is a Cabbageworm is a . . . Not!
A few weeks ago, one or more of the few species of "cabbageworms" began munching the leaves of my cabbage and Brussels sprouts plants. They ignored kale leaves, thankfully, because it's my favorite of the three.
A laissez fair approach would have left the cabbages and Brussels sprouts mere skeletons, so I had to take some sort of action.
For the record, "cabbageworms" are actually not worms, but a few species of caterpillars all classified — and this is important — in the order Lepidoptera. Here's the lineup: A cabbage looper arches its back when moving, and is light green with a pale white stripe along each of its sides and two thin white stripes down its back.
A diamondback moth larvae is 5/16 inch long, yellowish-green, and spindle shaped with a forked tail.
A cabbageworm (yes, …